By all accounts, Allen Turner is a long way from home.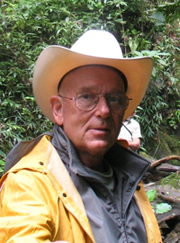 A University of Kentucky alumnus twice over, Turner is in Guadalajara, Mexico and about to complete a program that will allow him to teach English as a foreign language. When he is finished, Turner, 69, and his wife plan to move to Ecuador where they own a small sugar cane farm.
Once in Ecuador, Turner hopes to teach and to research how birds relate to culture.
Meanwhile, he is still serving as a legal consultant to the Gabrieleno Band of Mission Indians who are fighting to be recognized as a tribe by the U.S. government.
The anthropologist, lawyer and teacher has certainly kept busy since he left the College of Arts & Sciences in 1981.
"They're all dimensions of what I've been able to do in my life so far," Turner said. "You couldn't put me in a box if you tried."
Turner is originally from Jessamine County, Kentucky. "I grew up between the high rollers and the holy rollers," he said.
Interested in science, Turner earned an undergraduate degree in zoology and chemistry from Seattle Pacific College in 1961. He got a job in data processing in Illinois. But he just wasn't done there, he said.
"I was working and just not that happy when someone said to me, 'You know, I think you should really go back and study anthropology. That's what you seem to really like'," he said. "So that's what I did."
Turner got his master's degree in anthropology from the University of Kentucky in 1970. During his master's degree work, he studied Latin American and North America community culture.
After leaving UK, Turner was working in Arizona and got involved – almost by accident – with a group of Paiute Native Americans who needed help resolving some issues with the Navajo, Turner said.
He become interested in all topics related to Native American culture and community.
"You know, you don't really have to pick your next direction, sometimes it picks you," he said.
Turner returned to UK and earned a Ph.D. in applied social anthropology and geography in 1981. His thesis developed organizational decision-making and resource management strategies in Basin Plateau Shoshonean communities.
Turner was teaching, researching and publishing at Idaho State University in Pocatello, Idaho when he decided again that he could be doing something more.
"I had gotten opportunities to work with various Indian groups and served as a consultant for lawyers who were involved in contests between the government and the Indians over different issues," he said. "I saw that the lawyers were the ones who really held the keys to change."
Taking a leave of absence, Turner went back to school, earning his law degree from the University of Idaho in 1989. His focus was on Native American environmental administrative policy. Since then, Turner has put his experience and knowledge to good use for a litany of tribal groups including the Shoshone-Bannock and Paiute. In 1991, Turner's wife got a job in Redlands, California and the couple decided to move.
In California, Turner taught classes at the University of California Riverside and California State University-San Bernardino. He practiced law and served at the executive director of the San Bernardino Bar Association from 2001 to 2004. Turner still maintains the bar association's Web page. It was through his work online that a group of Gabrieleno Native Americans found Turner.
"They found a site of mine and saw some of the work I had done in the past and just called and said that they wanted me to represent them in their petition to the government," he said.
Using grant funding and some help from anthropology students, Turner compiled research on the tribal group in order to include it in the petition to the government. There are only about a hundred people in the group and they are not interested in gaming rights, but the process of being recognized is very long and difficult, Turner said.
"A group will get recognized about once every 20 years," he said. "It's not easy. They just want their own little piece of land."
The petition for the Gabrieleno group was submitted six years ago, he said.
"These people were pretty much on the beach when the first Portuguese explorers came walking up," he said. "To me, it's about justice. They deserve recognition."
Turner's ability to combine multiple academic disciplines throughout his career should be somewhat of a message for students who are currently pursuing degrees in fields like anthropology, he said.
"You know, it's really hard to pin a career on something like anthropology without some form of practical application to go along with it," Turner said. "It could be anything from writing to engineering. For me, it was law."
Combining skills with something you love to study is also more enjoyable, he said.
"Anthropology and the law just mean more to me in combination than they do separately," Turner said. "If you can find the right mix for yourself, well, then you're in for a good life adventure."
photo courtesy of Allen Turner
Read Turner's "Ectones of the Mind" by clicking here - a piece he wrote after leaving the Shoshone cultural geography project during his first month in law school.