Location:
King Library Press
Speaker(s) / Presenter(s):
Juan Pascoe
Juan Pascoe will lead a printing workshop. - 8:30 AM - Continental Breakfast; 9:00 AM - Printing Workshop - The King Library Press. Registration in advance and a fee of $35 (includes lunch) is required. To register for this King Library Press Workshop call 859-257-1742 or email PEHolbr@harvard.post.edu.
Juan Pascoe presidirá un taller sobre la imprenta Mexicana. El taller tomará lugar en King Library press y tiene un costo de $35 que incluye el almuerzo. Para registrarte puedes llamar al  859-257-1742 o enviar un correo a PEHolbr@harvard.post.edu. Habrá un desayuno a las 8:30 am y el taller comenzará a las 9:00 am.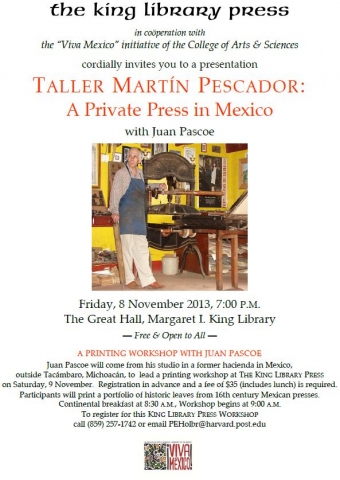 Type of Event (for grouping events):