Alumni Spotlight: Owens Family Traditions: Biology, Optometry, and Basketball
By Julie Wrinn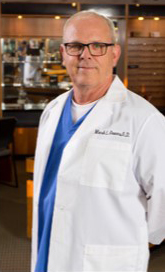 Fulton City High School's 1972 yearbook shows a photograph of Mr. Milner's Advanced Biology students dissecting a shark. One of those students was Mark Owens (Biology '76), and he loved his biology labs: "We had sharks and cats and worked on all kinds of stuff in the laboratory. I thought it was fascinating, the things that we did."
Thanks to Mr. Milner's engaging labs, by the time Mark was in 11th grade he knew he wanted to follow in his father's footsteps into optometry. He saw the comfortable living his dad made in Fulton City, a small town near the southwestern Kentucky–Tennessee border, and he greatly enjoyed his biology classes with Mr. Milner. Dr. Shelton Owens was a WWII veteran who attended Murray State University on the G.I. Bill and went to the Illinois College of Optometry in Chicago. He played basketball for Brewers High School in Marshall County and played in the state tournament in 1944. That love of basketball led Dr. Owens to bring his children to Lexington on a regular basis to watch its heralded men's basketball team, and Mark especially remembers watching Dan Issell play.
From those experiences, Mark Owens' path became clear: he would attend UK, major in biology, and become an optometrist. He knows such clarity is rare today: "I ask patients all the time, young people, what they want to do, and most of them don't have a clue. Of course today there are a lot more choices than there were in 1972."
Owens' particular enjoyment of lab work steered him into biology as a major, though he believes that a strong background in physics, optics, and math are also crucial, especiallly math.
"Math in my opinion is the basis of everything as far science goes. If you can understand math you can pretty well get through anything and understand what they're talking about," he said.
At UK, Owens found a new favorite biology teacher, Dr. Bob Keane, whose limnology (freshwater biology) course was a memorable experience. It was a different era, as Owens reminisced: "On Fridays he would have us all over to his house. It was a 500-level class, and we had only about 8 to 10 people taking it."
Among these advanced students, Owens remembers the satisfaction of Prof. Keane treating them more like peers than students. "Not only did you learn a lot, but you were treated with respect by the professor. It was like, 'you do happen to know something, so let's enjoy the study of this together,'" he said.
After optometry school in Memphis, Owens returned to Fulton and entered a profession on the cusp of dramatic change. His father had begun practicing in 1951, and Owen began in 1980.
"At the time we couldn't write prescriptions for drugs, couldn't treat glaucoma, couldn't do the things that we take for granted today," he said.
Prescribing privileges and surgical procedures formerly reserved for ophthalmologists were gradually opened to optometrists. First came the ability to administer drugs for diagnostic use in the late 1970s. Next came privileges for prescribing antibiotics to treat diseases of the eye. Next came laser surgery privileges.
Kentucky was at the forefront of these changes. With its rural populations in the eastern and far western regions of the state, there weren't enough opthamologists to meet the needs of patients in those regions, and  legislators responded. Today, Kentucky is one of only three states, along with Oklahoma and Louisiana, that permits optometrists to perform laser surgery. Owens observed, "In my examination room today there are only a couple things that my father had at the end of his career. Everything is totally different from that era. Phoropters, computers, retinal cameras that flash up on the computer. There's been tremendous change."
Owens' patients never have to wonder where his loyalties lie. "I wear blue scrubs with UK on them every day to the office. I have a wildcat on my back. It's big time Kentucky around here," he said. His waiting room has a stuffed animal Wildcat with Kentucky basketball and football schedules in its paw. After years of attending athletics fundraisers that included golf tournaments hosted first by Rick Pitino and then by Tubby Smith, it dawned on Owens and his wife, Theresa (E.D. '76), that their charitable dollars could be directed towards the primary mission of the school.
"We've got to have an education first. It's not for the basketball team, which I love. But the reason we're there is to teach and to learn," he said. At various social events in nearby Paducah they began hearing about the UK Fellows Society, which recognizes donors who are helping the univeristy advance its mission, and decided to commit.
The UK family traditions are being carried on by the Owens' children, John (B.B.A. '07 in Business, M.B.A. '11) and Emily (B.S. '07 in Communications).
"I couldn't have asked for a better education for myself and my wife and my children. Very, very happy with what we got at UK, and we still love to come there," Owens said. "The campus is 100 percent changed from when I lived in Haggin Hall years ago, and we're proud of that. We want it to be and continue to be the best university in the state and among the best in the country, as far as we're concerned. My profession's been great to my family for nearly 70 years now. And it all started with training that I got in Lexington."