Chair's Message
Biology is the study of LIFE. It is the exciting study of how living systems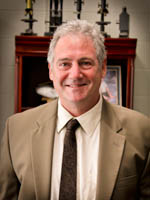 do their business: How plants produce nearly every shred of edible food through photosynthesis. How microorganisms reproduce and acquire resistance to antibiotics, how they produce disease, and how they benefit our lives. It is the study of animal development from conception through maturation, reproduction, senescence and then ultimately to death. It is the study of how we perceive our world through our amazing senses, and it is the study of the very brain we use to process this information and everything about our world. It is the study of the great diversity of living things on Earth and how they interact with each other and with human society. Biology tells us who we are in this vast living world. It tells us where we came from, and it tells us where we might go as a species.
From biological principles, the fields of medicine, dentistry, veterinary medicine, nursing, and many other life science careers arise, and in these uncertain times of great climatic change, the emergence of new diseases, and human overpopulation, we will rely on Biology more and more. Fortunately, the science of Biology has delivered and continues to deliver on its great promise to provide new cures for disease, new ways to understand ourselves and new approaches for remediation of environmental discord.
The Department of Biology is the fulcrum for these endeavors at the University of Kentucky and is committed to become an even greater part of the intellectual life of this great University.
Biology is the most popular major at UK, and students emerge from our programs prepared to take on the many challenges of the 21st Century. Biology majors find careers in biotechnology, go to graduate school in many areas, and attend medical, dental and veterinary schools. Biology makes great efforts to reach out to Kentucky and to the world. We offer many outreach and other services to our community and are committed to continue and improve them.
As the next few years unfold, we hope to show Kentucky, the country and the world what a great place this really is. We will improve our curriculum. We will increase our research efforts and we will engage the world. We will do this, because Biology is the study of LIFE, and, really, what else is there?
Vincent Cassone
Professor and Chair
Department of Biology