Tutoring- Biology Learning Center
Need help with BIO?  You've come to the riight place!  This will be your one-stop-shop to get help with Biology courses.  We currently have an awesome group of Peer Tutors and we looking to grow, so if you had success in Biology courses and you have a passion to help others, contact Dr. Pete Mirabito or Dr. Erin Richard and they will guide you through the process of joining the BLC team.
All tutoring will be through Zoom meetings this semester. You'll use the schedule above to find days and times when there's a tutor available for the course you need help in and the Zoom links to connect with tutors.  Note: the link will take you to the waiting room for the meeting and the tutor will invite you to join very shortly after your arrival.  If you have any trouble connecting wth BLC tutors using this system, contact Dr. Pete Mirabito or Dr. Erin Richard and we'll get that straightened out.
Please note that the phylsical location of the Biology Learning Center is JSB 143: that room remains available to you if you are on campus and want a clean, safe and quiet place to study, but there will be no peer tutors in that room.
BLC tutors can access the time log form here >>
Meet our Fall 2020 Tutors!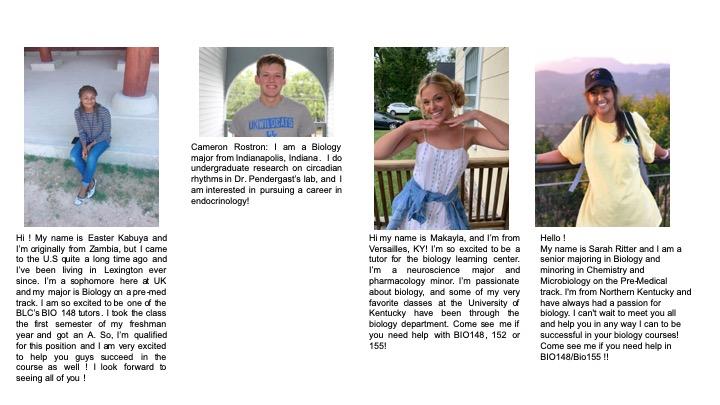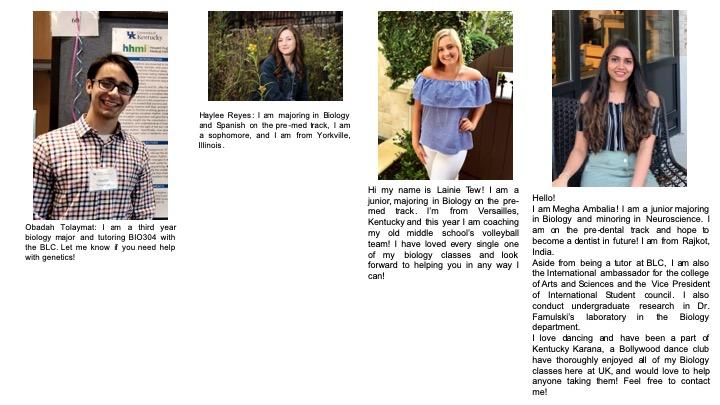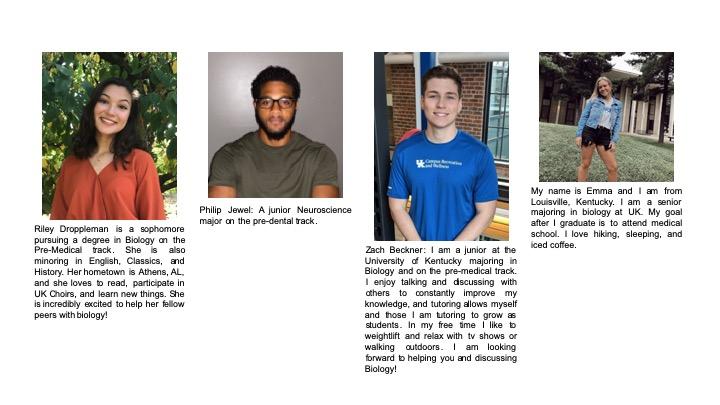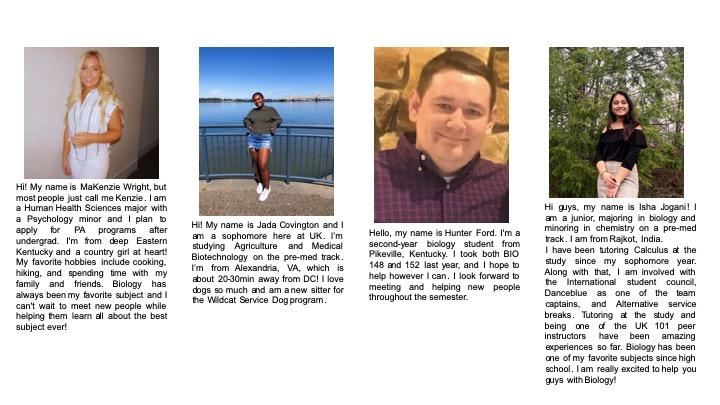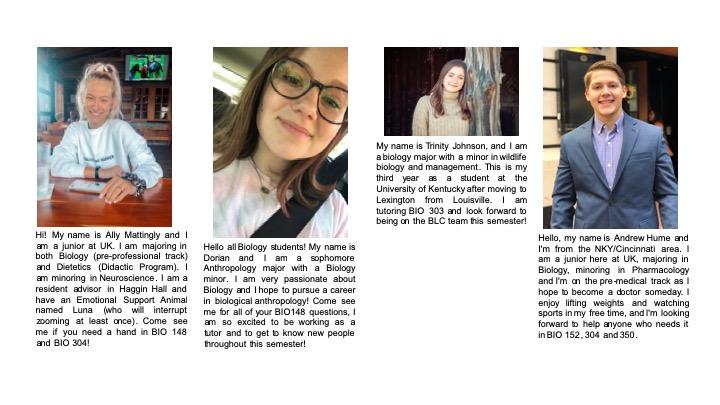 BIO 148 Help (More Tutors Wanted)
Mondays: 9 am - 5 pm
Tuesdays: noon - 3 pm; 4:00 - 5:30 pm
Wednesdays: 9 am - 3 pm
Thursdays: 9 am - noon; 3:00 - 6 pm
Fridays: 1:00 - 3:00 pm
BIO 152 Help (More Tutors Wanted)
Mondays:4:00 - 7:00 pm
Tuesdays: 4:00 - 5:30 pm
Wednesdays: 9 am - noon; 2:00 - 3:00 pm; 5:00 - 8:00 pm
Thursdays: 9 am - noon; 3:00 - 4:30 pm
Fridays: 1:00 - 3:00 pm
BIO 155 Help (More Tutors Wanted)
Mondays: noon - 3:00 pm
Wednesdays: 5:00 - 8:00 pm
Thursdays: 9:00 am - noon; 3:00 - 6:00 pm
BIO 302 Help (Tutors Wanted)
BIO 303 Help (More Tutors Wanted)
Tuesdays: 11:00 am - noon
Wednesdays: 4:00 - 6:00 pm
BIO 304 Help (More Tutors Wanted)
Tuesdays: 9:30 - 11:30 am
Wednesdays: 1:00 - 2:00 pm; 4:00 - 5:00 pm
Thursdays: 9:30 am - 3:00 pm
BIO 308 Help (Tutors Wanted)
BIO 315 Help (Tutors Wanted)
BIO 325 (Tutors Wanted)
BIO 350 Help (Tutors Wanted)
BCH 401G Help (More Tutors Wanted)
Thursdays: noon to 3 pm