Graduate Degree Programs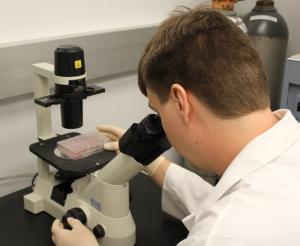 Students in  the Biology Graduate Program are trained to become practicing professionals in a wide array of possible career paths, including academic positions, industry, government, or are prepared to take on additional schooling. The program achieves this through a combination of formal course work, research experience, and activities that foster the communication of scientific ideas. The specfic training depends on the degree program and we offer three; the Ph.D., the research or thesis Masters', and the non-thesis or coursework Master's. All students must complete a set of requirements outlined by the Graduate School at the University of Kentucky and the Biology Graduate Program. The details of coursework, research, exams, and other experiences depend on the program and are described in detail in the Policies of the Biology Graduate Program. For a brief overview, follow the degree program links below:
With more than 400 life sciences faculty and more than 1,000 researchers on campus, the University of Kentucky is an especially rich environment for the intellectual development of biologists. Within Biology, there are multiple opportunities for enhanced training. We encourage you to consult individual faculty member web pages, and you can find more details on our training web page.