How a Lafayette High School dropout became a world-renowned neurosurgeon
This story originally ran in the Herald-Leader on Saturday, May 31, and appears courtesy of Linda Blackford and the Lexington Herald-Leader.
by Linda Blackford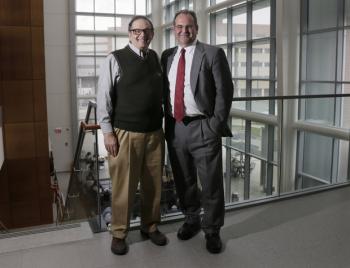 In 1976, Geoffrey Manley dropped out of Lafayette High School. He was only a sophomore, but money was tight and he felt like he needed to help support his mom and brother. He'd always enjoyed working with his hands, so he got a job as an auto mechanic at a Texaco station in Gardenside.
"No one in my family had gone to college, so growing up in Lexington, I don't think there was an expectation for me to go to college," Manley, now 53, said recently. "My mom was a single mom and there was a lot of financial burden on our family. I felt a need to go out there and make some money."
He began to specialize in foreign cars, which by the early 1980s were just appearing on Lexington's roads. One of those drivers was Sheldon Steiner, a University of Kentucky biology professor, whose Toyota Corolla wasn't running quite right.
Steiner took the car to Manley, who fixed it, and then started up a conversation about science, a decades-long conversation that would take Manley out of his mechanic's coveralls and into a neurosurgeon's scrubs.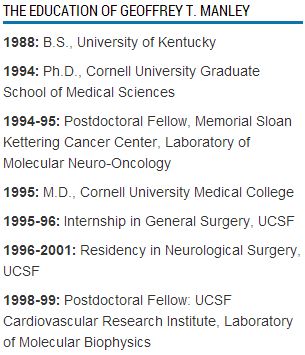 Today, Manley is one of the world's experts on traumatic brain injury, a fact he credits to many virtues: inspiration, determination, hard work and luck. But most of all, he said, "we meet certain people in our lives who really are transformative. He (Steiner) is a humble guy, but for me, he was that person who was there at the right place and time."
Steiner said he was immediately struck by the smarts of his car mechanic.
"He was a really bright kid, the questions he asked were very smart," Steiner recalled. "He had not gone to college, no one in his family had gone to college, and it wasn't in his stars to go to college."
Manley said he was making a good living fixing cars, but "I was never quite satisfied.
"One day, I was sitting there with Shelly, we were getting to know each other better, and he said: 'I think you could do something so much more with your life; you're a very smart guy, think beyond where you are right now.' It hit me, maybe I could."
Manley got his GED, then started taking college classes at Lexington Community College (now Bluegrass Technical and Community College). He also began working in Steiner's lab at UK, which was focussed on the role of certain chemicals in the muscle development of mice.
"He really gave me this research opportunity to work in his lab and really do a project," Manley said. "You take someone who doesn't know a whole lot about anything. That investment is immense."
He transferred to UK, but financial aid was scarce. The small salary he got from Steiner's lab wasn't enough to pay for school and living expenses, so Manley got a job in 1983 as a bellhop at the Marriott Griffin Gate. That job gave him the financial security to finish his undergraduate degree at UK.
His application to medical school was accepted at both UK and the University of Louisville, but Steiner spoke up again, pointing him toward a combined M.D.-Ph.D. program available at some of the most prestigious schools in the country, including Johns Hopkins, Harvard and Cornell. He wound up at Cornell's medical center in Manhattan.
When he got there, his professors told him he was their first student from Kentucky in 20 years.
"I had a phenomenal run there," Manley said. "I got to work with great minds, and I stayed interested in neurosurgery."
On the advice of his mentors, he went for his residency to the University of California-San Francisco to work with famed neurosurgeon Charlie Wilson, who founded the department of neurosurgery at UK. That's where Manley stayed, adding year by year to the list of titles behind his name: professor of neurosurgery, chief of neurosurgery at San Francisco General Hospital, faculty member of both the California Institute for Quantitative Biosciences and the UCSF Center for Clinical and Translational Informatics.
Manley recently returned to Lexington to be the keynote speaker at the Kentucky Spinal Cord and Head Injury Research Trust Symposium.
As a child, he said, he was ashamed of his family's poverty, but now "I'm incredibly proud to be from Kentucky. My family has been there for 200 years.
"When I went to New York I realized I came from a place (where) we had our own dialect, we had our own music ... It's a very, very special place to be from, and it's made me what I am now," he said.
Manley gives full credit for his successes to the many people who helped him along the way, including Steiner and his wife, Kathy.
"You don't come as far from where I was to where I am now without help from people," he said. "I think it was Martin Luther King who said something like, 'You can't pull yourself up from bootstraps unless you have boots.'"
Steiner, who's still teaching at UK, is, in Manley's words, characteristically humble.
"I supported him, I opened the door for him, it gave him an opportunity," Steiner said. "But he would have done something else. He's an extraordinarily talented person."
Manley offers plenty of advice to others like him, people who might get discouraged on their quest for a degree, particularly as tuition rates spike around the country.
"Don't lock yourself into the standard path — just because you didn't go to college doesn't mean you shouldn't," he said. "You'll be a better student. People like us tend to be much nicer people, more respectful of people, and we understand the value of education because it wasn't given, we earned it."
Most of all, he said, cultivate failure.
"I've had a lot of failure. I know failure, but I'm not afraid to try anything because I'm not afraid to fail."
Linda Blackford: (859) 231-1359. Twitter: @lbblackford.