Location:
WT Young Library Auditorium
Speaker(s) / Presenter(s):
Various
A day long symposium honoring one of Mexico's most treasured animals. Sponsored by the College of Arts & Sciences Biology Department and Hispanic Studies Department.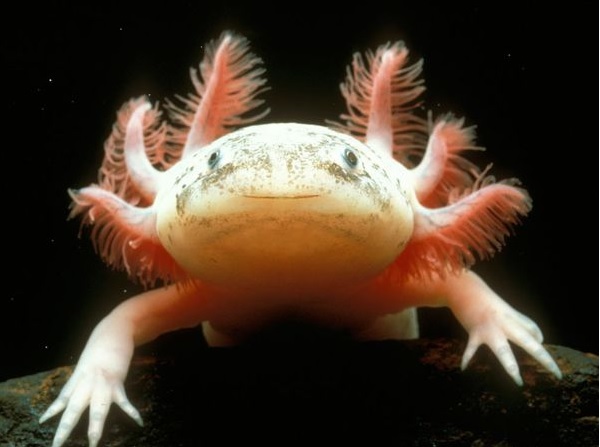 Morning Session
9:00 - 9:15 Symposium Introduction, Randal Voss, UK
9:15 – 10:00 Salamanders are forever, Panagiotis Tsonis, University Dayton
10:00 - 10:30 Waxolotls in literature, Vinnie Cassone, UK
10:30 – 10:45 Coffee Break
10:45 - 11:15 The skinny on axolotl regeneration, Ashley Seifert, UK
11:15 – 12:00 How axolotls regenerate their limbs, David Gardiner, UC-Irvine
Afternoon Session
1:00 - 1:30 Conquering the axolotl genome, Jeramiah Smith, UK
1:30 - 2:00 Axolotl on a chip, Alex Palumbo, UK
2:00 - 2:30 Of axolotls and tiger salamanders, David Weisrock, UK
2:30 – 3:00 Coffee and Discussion Break
3:00 – 4:00 Using the axolotl (Ambystoma mexicanum) as a flag species to restore the most important and managed wetlands in Mexico: Xochimilco, Luis Zambrano, Autonoma Universidad de Mexico
4:15 - 5:00 Ambystoma Genetic Stock Center Tour
Simposio de un día que rendirá honor a uno de los animales más especiales de Mexico. Patrocinado por los departametos de Biología y Estudios Hispanos del College of Arts & Sciences.
Sesión de la manána
9:00 - 9:15 Introducción al simposio por Randal Voss, UK
9:15 – 10:00 Las salamandras son para siempre, Panagiotis Tsonis, University Dayton
10:00 - 10:30 Waxolotls en literatura, Vinnie Cassone, UK
10:30 – 10:45 Receso
10:45 - 11:15 Regeneración 'skinny' del Axolotl, Ashley Seifert, UK
11:15 – 12:00 Cómo los axolotls regeneran sus cuerpos, David Gardiner, UC-Irvine
Sesión de la tarde
1:00 - 1:30 Conquistando el genoma de Axolotls, Jeramiah Smith, UK
1:30 - 2:00 Axolotl en un chip, Alex Palumbo, UK
2:00 - 2:30 De axolotls y salamandras tigre, David Weisrock, UK
2:30 – 3:00 Receso y Discusión
3:00 – 4:00 El axolotl (Ambystoma mexicanum) como medio para restaurar uno de los más importantes y manejables pantános
mexicanos: Xochimilco, Luis Zambrano, Autonoma Universidad de Mexico
4:15 - 5:00 Tour Genetic Stock Center Ambystoma