New Biology Faculty Member Uses Snakes to Explore Riddles of Evolution
By Richard LeComte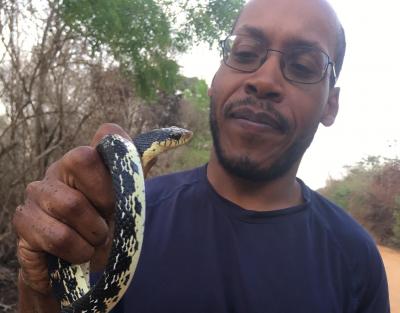 Phillip Skipwith is plumbing the depths of the evolutionary processes that create species – and his subjects have scales.
"I want to understand how you go from having a ancestral lizard skull to having a derived snake skull," he said. "That's a big change."
Big changes are in store for Skipwith himself this summer as he begins work as an assistant professor in the Department of Biology at the University of Kentucky's College of Arts & Sciences, where snakes and lizards – and evolutionary dynamics as seen through comparing the inner tissues of snakes lizards – will be his thing.
"I'm just an animal fanatic," said Skipwith, who's coming from a postdoctoral position at the American Museum of Natural History in New York. "What will be coming out of my lab will be mostly herpetology and molecular phylogenetics. I do a lot of CT scanning (X-ray computerized tomography), so you get to see 3D digital representations of different tissues."
Skipwith promises to add a great deal to the instruction of biology at UK.
"We are so very excited to have Skip Skipwith join our faculty," said Vincent M Cassone, chair of the Department of Biology. "He brings with him a deep sense of old-school natural history, which brings to life the amazing diversity of life, but he applies knife's edge imaging and molecular technology to open new, exciting windows into the process of evolution."
Originally from New Jersey, Skipwith holds a doctorate from the University of California-Berkeley. He said his interest in animals goes back to his childhood, when he studied and caught animals; he then went on to study biology and creative writing at Richard Stockton College. One of his passions involves field work – getting on the ground and looking for samples.
"I'm a museum scientist by training, so I go out and do a lot of field work, and I've been lucky to do field work in about eight countries now," he said. "I go out and collect specimens, and I collect external measurement data. Then I use the tissues for genetic analysis."
One of the ways Skipwith is seeking to deepen knowledge of evolution is through the study of how traits – genetic, anatomical, and behavioral – develop. Many questions still surround this biological process.
"We don't have a pretty good understanding of how the genome evolves," he said. "It's one thing to have a genome, but we don't understand what are the changes in the genome that lead to traits that we're seeing and what the contribution of the environment in shaping the end phenotype – the physical traits or behavior that we see."
Scientists now have several ways to explore how changes in genes and environment can affect speciation, and why some animal groups have a lot of species – and why some don't.
"There are a lot of questions about evolution that still need to be addressed," he said. "Most of the questions I ask are contingent on having what we call a phylogenetic tree. If you look at a pedigree – the representatives aren't individuals in a family – in my case they represent populations or species. The data I use to generate those charts are DNA. I'm interested first off in how species are related and the timing of how these species diverge from each other over hundreds or thousands or millions of years."
He also looks at how unrelated animals that have different ancestors, especially snakes, can end up looking alike because they evolve in similar environments; the result of convergent evolution. CT scans and DNA analysis can help Skipwith look past the obvious surface similarities to detect these lizards' divergent origins.
"One snake from one island and one from another island may look really different from their close relatives, but they look alike because selective pressures have forced them to look similar," he said. "They occupy equivalent ecological areas." 
Skipwith, who keeps pet snakes, is looking forward to coming to UK and the opportunity to bike to work and interact with his new colleagues. He will use CT data in his research and plans to help others use that scanning technology. He also wants to work with faculty members who can help with understanding the genomes of the species he's investigating.
"The UK biology community and all the science departments have really broad interests," he said. "You can learn a lot from your colleagues walking down the hall and attending seminars together. It opens corridors for collaboration."
When he starts his research at UK, Skipwith will be contributing to the understanding of the tree of life – phylogeny – and how different species of snakes tell that story in the interconnected complexity of living things.
"No species is an island," he said. "No species is independent of one another, either in an ecological or an evolutionary context."