New Chronic Illness Support Group Fosters 'Candid' Conversation and Community-Building
By Madison Dyment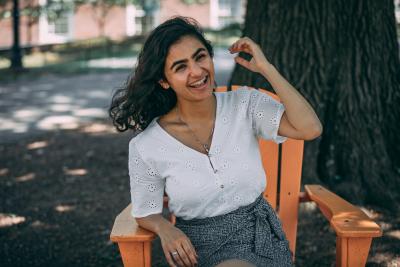 LEXINGTON, Ky. -- The University of Kentucky takes pride in providing a space for all students to succeed and feel at home. Sahana Holla, a junior biology major and College of Arts & Sciences ambassador, has contributed to providing such an environment by starting an organization that benefits a specific set of students – the Candid Colon group.
The group, partners with the Crohn's and Colitis Foundation, was a dream of Holla's that arose from her own experience at UK. Coming from a small high school in Richmond, Kentucky, Holla was anxious about moving to a large school. Living with Crohn's disease added more anxiety. 
"There were only 46 people in my graduating class so I was super nervous," Holla said. "Especially living with Crohn's disease, I didn't know how many people had it like me and wasn't sure if I would meet other people like me here."
After connecting with the UK Disability Resource Center, Holla stumbled across the Crohn's and Colitis Foundation in the first semester of her sophomore year. Her contact with the group informed her about possibilities for leadership opportunities, and Holla jumped at the chance. 
"I said I would love to do that because it would have been something great that I would have loved to have participated in when I first came to college since I was so apprehensive about everything," Holla said. 
By the second semester of her sophomore year, Holla started to get approval for the group from UK and the Crohn's and Colitis Foundation. She went through leadership training with both groups, and eventually the Candid Colon became a registered organization in summer 2019. 
Candid Colon serves as a support group for students struggling with IBD or other chronic illnesses. Covering a wide range of topics, meetings provide students a chance to meet others like them and talk about ways to live a college lifestyle with a chronic illness.
"Things can get a little rocky living with a chronic illness and it can be difficult to maintain things in your life," Holla said. "I wanted a place where upperclassmen can speak to underclassmen, be able to share their tips and tricks on how to live with it in college and to share resources on campus."
The group also discusses different treatment strategies if students' treatments aren't working well. It aims to foster community among a select group and create student connections and support.
"Right now, it's a pretty small group, since it's such a select target group, but I've been in contact with around five people regularly and meeting attendees can fluctuate," Holla said.
Holla serves as an excellent ambassador and leader for the Candid Colon because she has an inherent understanding of the struggles these students face. She said that people think the disease involves only the gut, but it's much more complicated than that.
"In reality, it's a big immune system disorder, so there's lots of things that come with it like arthritis, fatigue, depression and anxiety," Holla said
She said symptoms can be unpredictable, leaving opportunities for challenges to come up.
"I fell ill at the end of my freshman year during finals week and I was having a hard time getting to finals on time," Holla said. "But UK does a fantastic job trying to get the professors to know what's going on and provide help, and the Disability Resource Center and certain professors did a lot for me, too."
Even with these challenges, Holla does not let her illness keep her from living her life. Aside from being an A&S ambassador, Holla is also an artistic director for the Kentucky Karana, the university's Bollywood dance team, and a member of the medical fraternity, Phi Delta Epsilon. 
In the future, Holla hopes to complete medical school to become a physician and further the Candid Colon initiative. 
"I hope to stay involved with the group through the foundation and be able to promote education on IBD and hopefully do research to find treatments and help symptom management as well," Holla said. "Not only do I want to help students going through it now, but as a physician later on, I want to use my platform to make it grow in different communities as well."
Most importantly, she wants students to know that the Candid Colon is a place students can come at any time.
"Living with a chronic illness, coming to a support group like this isn't something you only come to if you're sick," Holla said. "It's more of a community to be a part of, somewhere you can come and relax and unwind while meeting other people like you with the same mindset as you."
If you are interested in the Candid Colon, you may visit its website at https://candidcolonuky.wixsite.com/mysite for more information.