By Richard LeComte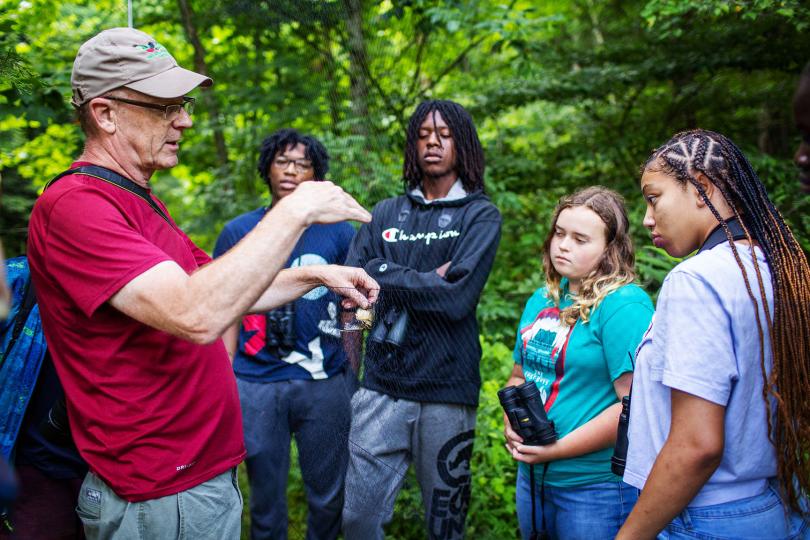 LEXINGTON, Ky. – Taking Flight — Next Level, a program run by The University of Kentucky's Ecological Research and Education Center; the Red Oaks Forest School in Stanton, Kentucky; and Kids MakeIt has received the Kentucky Academy of Science Excellence and Outreach Award for 2022. 
Taking Flight — Next Level teaches concepts of science, technology, engineering, math and art to students 14 and older, focusing on those with limited access to science activities outside the classroom. The program allows students to perform research on how the Northern Cardinal, Kentucky's state bird, responds to human activity, including habitat change.  
UK's David Westneat, professor of biology in the College of Arts & Sciences, directs the Ecological Research and Education Center and accepted the state award with colleagues in November 2022.  
"My partners and I have long been excited about the potential of the Taking Flight program, both as we discussed ideas for content and given the feedback from the students," Westneat said. "But, we weren't so sure how effective it was, as it is still a very young program and we have had difficulty recruiting students to participate. The award from the state-level scientific body was an affirmation from others of the potential of the program. It is also very helpful in boosting awareness of its availability.  
"We also hope it fosters connections in ways that can help Taking Flight itself or build additional programs either at the Ecological Research and Education Center or elsewhere in the state. It's always nice to get an award, but because some of the students were there when it happened, it was one more piece in building their confidence as scientists." 
The Department of Biology's Ecological Research Facility and Education Center field station  Field Station is on a 60-acre, old-field tract in Lexington near the UK campus; the facility is a resource for field studies. The Red Oaks Forest School provides outdoor learning opportunities through a variety of programs. Kids MakeIt focuses on teaching key science and technology concepts to children as well as helping them to explore careers. 
The Kentucky Academy of Science Excellence in Science Education and Outreach Award recognizes activities, educational programs or approaches that have increased the involvement, engagement and sustainability of science in the Commonwealth.