By Alicia Gregory
In 2009, the Virtual Observatory And Ecological Informatics System (VOEIS) project was launched. Funded by an NSF EPSCoR grant, VOEIS united researchers at five universities in Kentucky and two universities in Montana to develop a cyber infrastructure system to monitor, analyze, model, and forecast the consequences of environmental changes in freshwater ecosystems.
Real-time sensor readings from lakes and streams are sent to laboratories at Flathead Lake Biological Station in Montana and Hancock Biological Station in Kentucky and go into a database management system.
Barbara Kucera, principal investigator for VOEIS, said, "These biological stations have 30 years of archival data. That data is invaluable in the kind of research they do. But how are you going to store all of this data and what's important to store? That's the question facing the next generation. That's why we need more scientists and engineers and mathematicians."
University of Kentucky students played a key role in VOEIS—they developed an app for the iPhone and iPad that allows researchers to access and visualize this environmental data. The Kentucky's part of VOEIS (which involved Eastern Kentucky University, Kentucky State University, Murray State University, the University of Louisville, and UK) employed 12 graduate students and 12 undergraduate students, two of whom are now pursuing PhDs as a result of being involved in the project.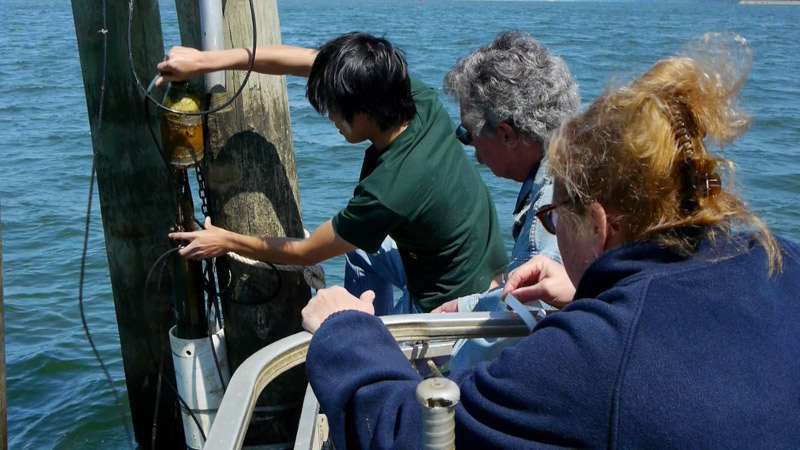 "Most of the students involved were from Appalachia or they were first-generation baccalaureate seekers," said Kucera. "Every student that participated said that this project was the best part of their college career. I don't think we can have much higher praise than that. It has just been a successful endeavor from the beginning for Kentucky, for EPSCoR, for each of the universities, for the students, for me."
Kentucky EPSCoR exists to advance the Commonwealth's research and development capacity for innovation, discovery and knowledge-based prosperity. Kentucky EPSCoR has been the channel for over $430 million in research funding to the Commonwealth's academic institutions. Over 80 percent of this funding has been competitively won from federal research programs. In addition to supporting 1,400 research jobs and providing research training for over 2,300 students, this funding has created 21 research centers and major research initiatives on Kentucky's campuses. For more, visit http://kyepscor.org and http://www.kynsfepscor.org.
A series of videos on Kentucky EPSCoR are being produced by Reveal: Research Media, through the UK Vice President for Research. For more, visit http://www.reveal.uky.edu.