Q&A with Trevor McNary, Class of 2016
Majored in Economics and International Studies
Senior Engagement Associate at 270 Strategies
nkzakh0
Tue, 04/23/2019 - 03:55 pm
Atrocities in Civil War: A Talk by Andrew Kydd
dsvoss
Thu, 11/15/2018 - 03:17 pm
UK's Peace Studies Program is bringing to campus Dr. Andrew H. Kydd, an expert on international security and strategic behavior, for an hour-long presentation with Q&A in W.T. Young Library Auditorium. Free and open to the public.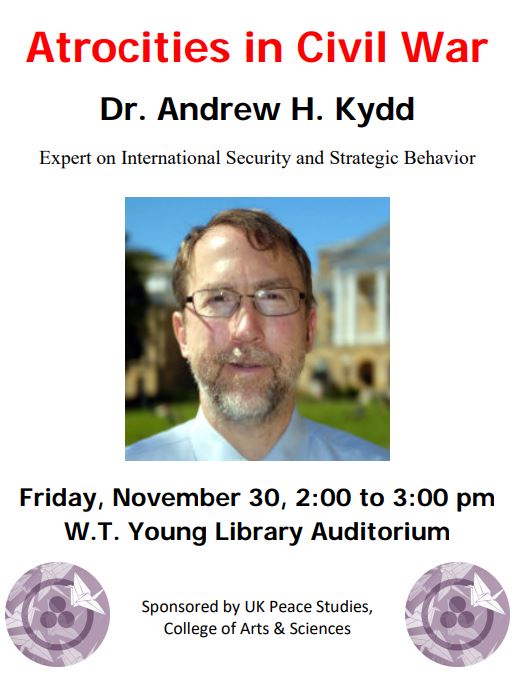 Location:
W.T. Young Library Auditorium
Type of Event (for grouping events):
Arts and Culture Week
Events include:
The Universal Language: Latin
September 17th, 2018, Patterson Hall 218, 4:00pm-5:00pm
Drs. Milena Minkova and Terence Tunberg from the Modern & Classical Languages, Literatures and Cultures Department will present "The Universal Language: Latin" at the International Village LLP.
DKL222
Tue, 09/11/2018 - 06:09 pm
Join us for an evening with filmmaker Robin Hessman and a screening of her award-winning documentary, MY PERESTROIKA (2010). The film tells the stories of five Moscow schoolmates who were brought up behind the Iron Curtain, witnessed the joy and confusion of glasnost, and reached adulthood right as the world changed around them. A Q&A with the director will follow the film.
For more information please visit myperestroika.com
Location:
Kentucky Theatre
The images of untold thousands of people — many of them children — escaping the horror and despair of the war-ravaged Middle East are seared in the memories of anyone even semi-aware of global events in recent months.
Miguel Alvear Presents: 
Beyond the Mall: A Documentary About Popular Video Films in Ecuador
Miguel Alvear is an Ecuadorian filmmaker. His recent movies are Más allá del Mall (2010) and Blak Mama (2009). He studied in Belgium and at the SFAI (California). His movies have been recognized with the Award DocTV in 2010, the prize for best Ecuadorian movie in 2008, and in the "Festival der Nationen", Austria, 1996.
Sept 24th 4-6:30 pm 
White Hall Classroom Building 234
Sponsored by the International Studies Program, Latin American, Caribbean and Latino Studies at the University of Kentucky,Sociology Department University of Kentucky, University of Kentucky Department of Hispanic Studies
Location:
White Hall Classroom 234
Computer science and the St. Chad Gospels. Physics and Spanish. Math and international studies. The combination of these don't seem to make a lot of sense, but it is these interests that have shaped the undergraduate career of one UK senior.
Subscribe to international studies